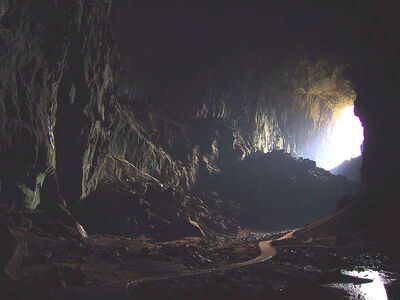 Dark tunnels twist ever deeper into the ground; no light shines here to show what hides behind the stones.
Very little is known at large about this underground region. Several routes into the dark caverns have been located, which lead miles down beneath the surface into pitch black caves. A varied ecosystem exists in this segregated place, including caves rich in valuable minerals, volcanic vents, fungal forests and large lakes containing blind fish.
Dwarves have made their homes in the Underdark for centuries, but lately they have apparently been suffering from the ire of the more aggressive denisons of the deep: drow, mind flayers, beholders, morlocks, orcish raiding groups and various abberations. Deep goblins also reside here, and although they admit to having strained relationships with the dwarves, they seem to merely wish to be left in peace. A skittish but ultimately friendly deep gnome has also been encountered within the region.
Points of Interest
Edit
Routes and Rivers
Edit
Underground Highway - A straight raised road that leads over chasms and caves. It begins at the entrance near Gorgoroth's Bridge and leads west.
Known Entrances
Edit