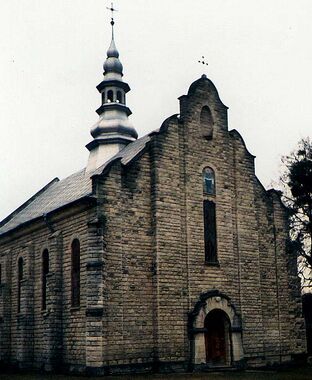 A well-tended temple stands in the town of Willowdale. It's clergy members bustle about their business, keeping up with the day's work.
The Temple of Yoma is a large stone church that acts as the spiritual centre of Willowdale. It can seat up to one hundred worshippers at a time, boasts a reading room and library, and has a currently-unused rectory. Its daily functions were overseen by the elderly Reverend Mother prior to her death.
The church is dedicated to the Harvest Goddess Yoma but it allows open worship to most religions and deities. Visiting priests and ministers from different religions routinely stay at the rectory.
Healing services that the church can provide include restoration and raise dead, although the latter relies on their small cache of scrolls; both of these require substantial donations to the faith. They can also provide vials of holy water, for a price. Father Wednesday has preached at this church before, but the services he held are dedicated to his personal gods and not Yoma.
The church was almost completely destroyed in the last attack of the Dead Nation upon Willowdale. It was rebuilt after the destruction of the Necromancer.
Last Will and Testament
Edit
The church is able to notarize wills for adventurers and other 'high-risk' professions.

 
 Last Will and Testament of _________________
 
 I, _________________ , _________________ , a resident of _______________ ,

 being of sound mind and able body and acting without duress, 

 menace, magic, mind control, fraud, mistake, undue influence 

 or nefarious forces, do make public and declare this to my last

 Will. This document supersedes, revokes, and overrules any and 

 other Wills, codicils, and arrangements previously made by my person.
 
 To my, _________________ , _________________ , I bequeath my
 
 ____________________________________________________________
 
 To my, _________________ , _________________ , I bequeath my
 
 ____________________________________________________________
 
 To my, _________________ , _________________ , I bequeath my
 
 ____________________________________________________________
 
 To my, _________________ , _________________ , I bequeath the
 
 remainder of my estate to be divided, used or kept as they see fit.
 
 To my, _________________ , _________________ , I leave this
 
 advice ______________________________________________________
 
 If it possible, in the event of my death, for my soul to be
 
 returned to my body to continue my life it should be done only if 

 the following can be guaranteed _____________________________
 
 If it is only possible for my soul to be returned to my body to

 continue my life under the following conditions then I would prefer 

 to remain in oblivion _______________________________________
 
 I do hereby appoint _________________________________________

 As legal guardian of ________________________________________

 Until such time as __________________________________________
 
 I do hereby disinherit the following ________________________

 For the following reason ____________________________________
 
 I wish for the my epitaph to read the following _____________

 ___________________________________
 
 I _________________ set my name to this last Will on this ___

 day of _________________
 
 I _________________ bear witness to this last Will on this __

 day of _________________

Last Will and Testament of

I, , , a resident of ,


being of sound mind and able body and acting without duress, 


menace, magic, mind control, fraud, mistake, undue influence 


or nefarious forces, do make public and declare this to my last


Will. This document supersedes, revokes, and overrules any and 


other Wills, codicils, and arrangements previously made by my person.

To my, , , I bequeath my



To my, , , I bequeath my



To my, , , I bequeath my



To my, , , I bequeath the

remainder of my estate to be divided, used or kept as they see fit.

To my, , , I leave this

advice 

If it possible, in the event of my death, for my soul to be

returned to my body to continue my life it should be done only if 


the following can be guaranteed 

If it is only possible for my soul to be returned to my body to


continue my life under the following conditions then I would prefer 


to remain in oblivion 

I do hereby appoint 


As legal guardian of 


Until such time as 

I do hereby disinherit the following 


For the following reason 

I wish for the my epitaph to read the following 





I set my name to this last Will on this 


day of 

I bear witness to this last Will on this 


day of