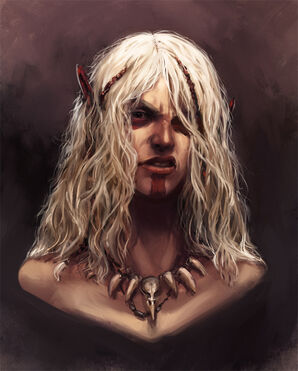 A PETITE ELVEN WOMAN DRESSED IN FUR TAKES OFFENCE AT YOUR COUNTENANCE AND STRIKES YOU DEAD!Edit
NOALE IS AN ELVEN BARBARIAN, AND THAT'S THE WAY SHE LIKES IT! SHE FAVOURS WEAPONS, AND SEEKS LIKE-MINDED, FREE-SPIRITED BARBAROUS PEOPLE! HER SEARCH LED HER AWAY FROM WILLOWDALE, AND NONE KNOW WHERE HER TRAVELS HAVE TAKEN HER SINCE! THE ONLY CLUE WAS A MUTTERED, DRUNKEN COMMENT ABOUT CHUTNEY.
Ad blocker interference detected!
Wikia is a free-to-use site that makes money from advertising. We have a modified experience for viewers using ad blockers

Wikia is not accessible if you've made further modifications. Remove the custom ad blocker rule(s) and the page will load as expected.