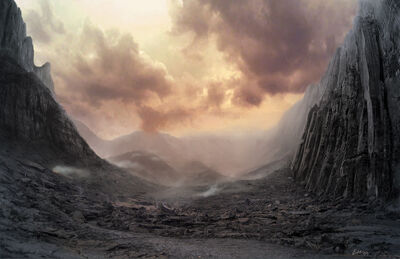 Your steps kick up ash no matter where you turn, and the dust irritates your lungs.
Everything seems to be a shade of grey, even the sky.
The Ashen Plains lie at the base of an active volcano, from which a thin layer of ash is constantly spewn. Lightning continually flashes from the ever-present, thick clouds that cover the sky, and there is almost no vegetation in the area, as the air and ground is choked with dust and smoke. A stand of white, petrified trees lies south of a ruined city, near a large lake which feeds the River Dusk.
Dark folk walk the streets of the barren city, as well as salamanders and other firey creatures. A great red dragon known as Amurru used to live in the volcano with his three wives and many children; whether the family will stay now that their patriarch has been killed remains to be seen.
Points of Interest
Edit
Routes and Rivers
Edit
River Dusk - Originates within the Ashen Plains from Kiragg Lake, this river flows to the south and southwest.
Lost Highway - Leads from the Open Steppe directly to the gates of the Ruined City.